First of all, this webpage features some of the jewelry available at our sister website: Tucson Indian Jewelry. Consequently, we buy and sell Native American Indian Jewelry featuring turquoise. By all means, our jewelry features jewelry with turquoise from Nevada, Arizona, Colorado and New Mexico. 
Most importantly: HURRY IN FOR BEST SELECTION! It is important to note, items are subject to prior sale inside our brick and mortar store in Tucson, Arizona.  
(Click on any picture for a magnified view).
…Please ⇒ "contact us" ⇐ for any special requests
First of all, here is a wonderful Blue Bisbee Turquoise ring with organic sterling silver mounting. In fact, this turquoise is speckled blue between classic reddish brown matrix. Consequently, Bisbee turquoise comes from only one place on earth: Bisbee Arizona. 
Secondly, here is a beautiful Fred Harvey Bracelet with Cerrillos Turquoise Center. Indeed, Cerrillos is the name of a town, just south of Santa Fe, New Mexico.
Thirdly, here is a fabulous Turquoise modern Fred Harvey pin. Specifically, this pin features classic features like Navajo stamp work and beautiful center turquoise stone.
Also, here is a beautiful Ernie Northrup Jr. Turquoise and Sterling Silver Pin. For one thing, this pin features Carico Lake Turquoise from Nevada.
In addition, here is a wonderful Robert and Bernice Leekya Ring. By all means, the Leekya family is a famous name in the Zuni Pueblo.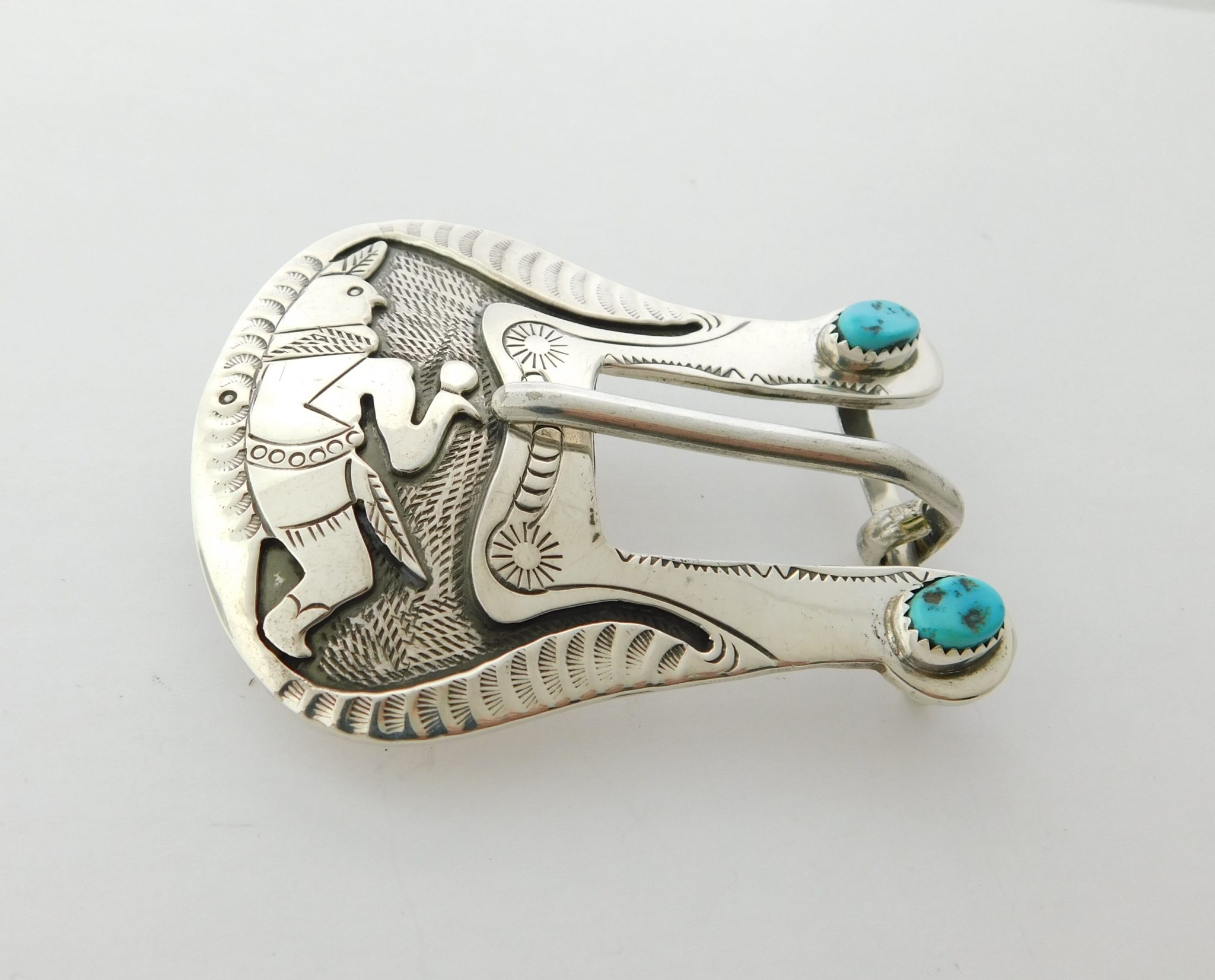 Also, here is a Dave Pino Sterling Silver and Sleeping Beauty Turquoise Belt Buckle. Significantly, this turquoise is from Globe, Arizona and this buckle features a wonderful Kachina.
Finally, here is a Tim Yazzie Navajo Bracelet. In fact, this beautiful bracelet has inlay work inside beautiful sterling silver framework.
NEW  ARRIVALS DAILY! (Click on any picture for a magnified view). 
Most noteworthy: ALL ITEMS SUBJECT TO PRIOR SALE! YOU MAY PURCHASE THESE ITEMS RIGHT NOW, ON TUCSON INDIAN JEWELRY.COM.
Turquoise Land 1990 – 2022 © Schannep Ventures L.L.C. ALL RIGHTS RESERVED