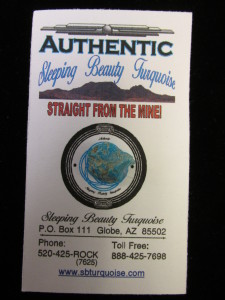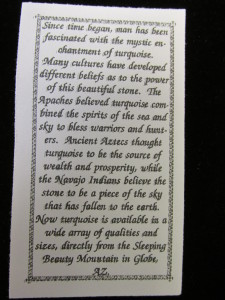 ⇑ Click on image for magnified view
*THE SLEEPING BEAUTY MINE has STOPPED all OPERATIONS.
We are selling these Sleeping Beauty nuggets, which we purchased direct for the miner owners at the Tucson Gem Show in February, 2014.
These nuggets are great souvenirs, but are not suitable for cabbing.
This pictured sample is representative of what you will receive. Each nugget is slightly different.    

I bought the last available cards from the owners of the Sleeping Beauty Mine and there will be no more cards available!  

Here is your chance to own a part of history.  

Please note that we ship only within the United States.
$15.00 Each (Minimum order of 2)                                                                                                                                                                     To see more images of Sleeping Beauty Turquoise, please click HERE!
Turquoise Land 1990 – 2022 © Schannep Ventures L.L.C. ALL RIGHTS RESERVED